On the 12th of February we held a SIG (special interest group) session on the launch of our brand-new website.

Lately, we've had the feeling that our current JIDOKA website was a bit out of sync with who we are and what we stand for. It doesn't explain clearly enough what our main differentiator is, and it lacks the personal touch and connection with our open and fun company culture.

What do we want to achieve with our new website?
clear and understandable website for any audience
visitors using as little clicks as possible to get to the right information they need
a website that exudes our open family culture
content with a personal touch, focussing on the customer journey and storytelling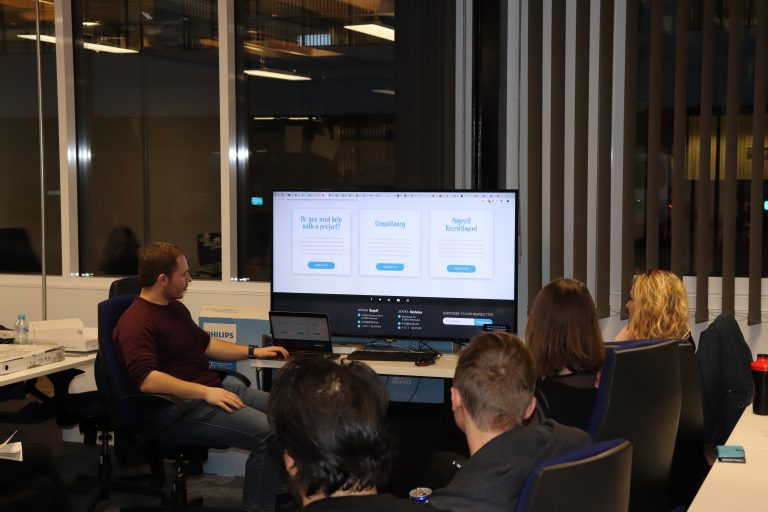 Our designer @chrisoortman did an amazing job with his Invision designs for the new website. He received a lot of positive feedback from the participants of the SIG session:
✅respect for our brand guidelines
✅great user experience
✅personal touch with many pictures
✅mobile & tablet scalability
✅too much text is avoided as much as possible

Why use Invision?
Invision is one of the best design prototyping tool to share your designs with other people. With this design tool you can 'emulate' a whole website with only images of your designs. By placing clickable 'hotspots' you can create multiple flows between different pages within your prototype, when finished, feels like a real website.

When using Sketch (digital design toolkit) you can install the Craft plugin to sync your artboards with your Invision prototype. With every change in your artboards, Craft will update your whole prototype automatically to keep everything up to date.

After you shared your prototype with other people, they can also contribute to your designs by leaving comments at a specific screen. With these comments you can create further progress with your designs.

Once the applause had died down, we continued with a brainstorm session to discover some other useful features: a search bar, a chat bot, references to the right contacts at JIDOKA, … and we discovered the utmost importance of good copywriting.

Below you will find a video that helped us during the SIG session to get a good understanding of the 7 principles we need to respect in order to make this new website a success.

A closer look into these principles
Principle 1: if people have too many choices, they won't choose at all
If you ask people how many choices they want, they will say everything. But if you give them too many choices, they will freeze and not make a decision at all.

Principle 2: social validation
When people are uncertain, they will look to others to decide what to do. The more information they can have in the ratings and the reviews, the more powerful the review and rating is.
Principle 3: principle of scarcity
Less available items seem to be more valuable. Fear of loss is a trigger that will cause us to take action.

Principle 4: food, sex or danger
These 3 things will definitely get our attention. It could be a very powerful trigger for action.

Principle 5: power of faces
Our brains are predisposed to pay attention to faces. You can use pictures of people at your website but make sure they're looking right at the camera. Research shows that people focus on the eyes.
Principle 6: story
There's research that shows that the brain processes information best in story form.

Principle 7: commitment
Start by asking small commitments, those small commitments will grow and become more and more loyal to your site.

Should we use Facebook advertising to promote the launch of our new website?

During the SIG we also discussed the possibility of sponsoring our Facebook ad on the launch of our website to get higher visibility and more website visits. However, in order to correctly assess the impact of sponsored Facebook ads, we decided to do a little test first: we will sponsor an ad that is similar to the ones we usually post on Facebook, and then compare the results between the sponsored and unsponsored ad. This should show us whether Facebook advertising is really going to help us achieve our goals.

Get to know everything you need to know about Facebook advertising via this link
The next steps

A next step will be to launch a first part of our new website (home, contact, about) and start with Google Analytics and SEO research. So stay tuned!